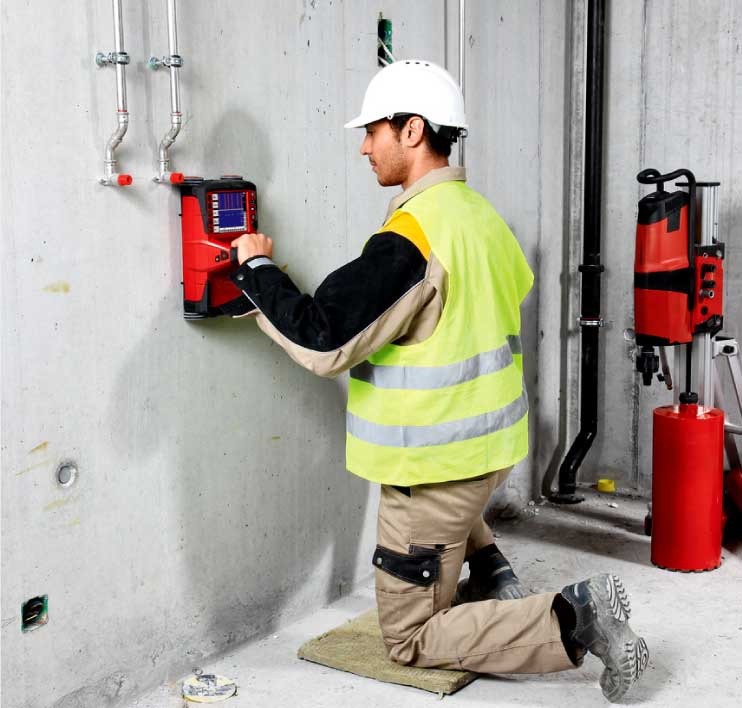 Concrete Scanning Companies in Dubai
Welcome to Core Cutting Dubai, we offer rapid response concrete scanning and wall scanning services nationwide from our extensive branch network. If you're in need of expert help with your concrete and structural inspections, we can help.
Scanning is at the forefront of the analysis of steel reinforcement in reinforced concrete structures. With our innovative portable and fast 3D scanners, we can detect and measure the depth of cover, diameter and positioning of reinforcing bars over a wide area. The concrete cover and rebar diameter estimation element is best performed with pulsed magnetic induction technology – we use the best tools for the job.
Non-destructive Testing (NDT)
Producing easily interpretable 2D and 3D images of concealed objects, D-Scan can provide non-destructive structural inspection prior to drilling, sawing or coring.
Avoid hitting concealed objects when drilling or sawing with our subsurface 2D and 3D scanning.
Applications of our Concrete Scanning service include:
Rebar 3D GPRS Scanning and Locating In Dubai, UAE
Reinforcing bars can be easily located in concrete slabs, blocks and other types of structures. In addition to rebar's, concrete scanning can also be used to detect the following at depths of up to 300mm:
Conduits – metal and plastic
Tendons
Glass-fiber cables
Wood
Void Detection
Voids can be detected as well as cavities in concrete structures.
Quality assessment
Quality checks can be carried out on rebar and tendon layout (e.g. for curvature, density, depth).
Inspections
Call D-Scan to perform inspections of floors, decks, slabs, balconies, etc in structures such as tunnels, bridges and buildings.
2D & 3D Concrete Scanning
We use the most productive scanning tools on the market to produce the quality 2D or 3D concrete scans you need.
Structure Analysis
The internal structure can be easily analyses using the imagery produced by our scanning equipment.
Ground Penetrating Radar (GPRS Scanning) Dubai
Ground Penetrating Radar uses radar pulses to build an image of the subsurface of structures. It is non-destructive (NDT) and uses electro-magnetic radiation to record the reflected signals from inside structures such as concrete floors and walls. As well as detecting various objects beneath the surface, it can also detect cracks, voids and changes in materials.
We are the experts in concrete scanning (sometimes called concrete x-ray) with nationwide coverage through a branch network.
About Core Cutting Contractors
As part of the award winning Drill Group, We can scan and drill, cut or saw all on the same day. With almost 50 years of experience, our extensive branch network and comprehensive drilling and sawing services, Our Scan are the perfect choice for your 3D concrete scanning project, every time.
We are trusted by our clients to get the job done.
Choose our Scan for your next Concrete Scanning requirement.
Our Scan (part of the  Drill Group)
Dubai,
Abu Dhabi
Sharjah
Dubai, Industrial Areas
International City Dubai
3D Imagery
Viewing the data in a cube format that can be rotated exposes the three-dimensional reflections from all sides. X and Y steel reinforcement can be color coded to highlight direction and depth.
Plan view image displays a cross-sectional view as well as a top-down view of two dimensional data. Steel reinforcement can be checked by comparing the two views offered.
3D image top view, side view right and side view bottom give a comprehensive representation of the structure.
The red cone represents starting point (0,0). The 3rd layer of rebar is more clearly visible in 3-D mode.
We have offices in following areas and can be onsite within a couple of hours:
Pictorial Analysis
Top view
Our Scan
The Concrete Scanning Experts
Let Our Scan take care of your concrete scanning needs.
Reasons to use us:
Fast Response – we have a nationwide branch network
Same day service
Trained technicians to CSCS standards
Competitive
Reliable
Trusted